︎ Raji Purcell - Senior Product Designer
︎ Creating delightful, accessible, and inclusive digital experiences
︎ Based in Austin, TX
September 2018 – Present

Currently, I'm leading UX innovations on rates, inventory, calendars,
and promotions for Expedia Partner Central and Vrbo.

Vrbo calendar redesign

Web, iOS, & Android
Contributions:
UX/UI, strategy, illustration, interaction, animation, & prototyping

Collaborators:
product design partner, web engineers, content strategist, UX research, product manager

Problem:
Vrbo noticed a trend of vacation rental owners canceling on guests because they had booked dates that weren't actually available or were the wrong rate. When we looked into feedback, we saw that owners were frustrated that they had to manage availability and rates on two separate calendars. To make things worse, they didn't understand how to accomplish the necessary tasks to keep their calendar up to date.


Outcomes:
We directly addressed owner feedback by consolidating the features of both calendars into one. Since the old calendars were built with legacy tech, we had the opportunity to completely redesign and rebuild, making improvements along the way to:
aria-labels and color contrast
currency localization and large number scaling
IA and feature organization
success, loading, error, and warning messages
calendar syncing
usability (resolved 24 frictions and 2 blockers).
our iOS and Android apps.
Beta:
Before the general availability release, we launched a beta version of the calendar that partners could turn on or off at will. Over 6 months, we received a wave of positive feedback and observed that 76% of partners have kept the beta turned on.
Calendar system

Web
Contributions:
UX/UI, interaction, system design, & documentation

Collaborators:
product design partner, UX engineers, content strategists, & UX research

Problem:
Multiple teams supported their own bespoke calendar implementations even though most of their calendars displayed the same information. Because there was no source of truth or calendar components to use, each calendar was inconsistent.

Outcomes:
As a personal project, I worked with UX engineers and my product design partner to create engineering and Figma calendar components. One of the UX engineers and I collaborated on a Figma plugin that quickly lays out the components into accurate calendars. This benefited our engineering team when we rebuilt our calendar and other teams with calendars in their product. The next phase is to adapt these components to other Expedia brands and contribute them to the design system.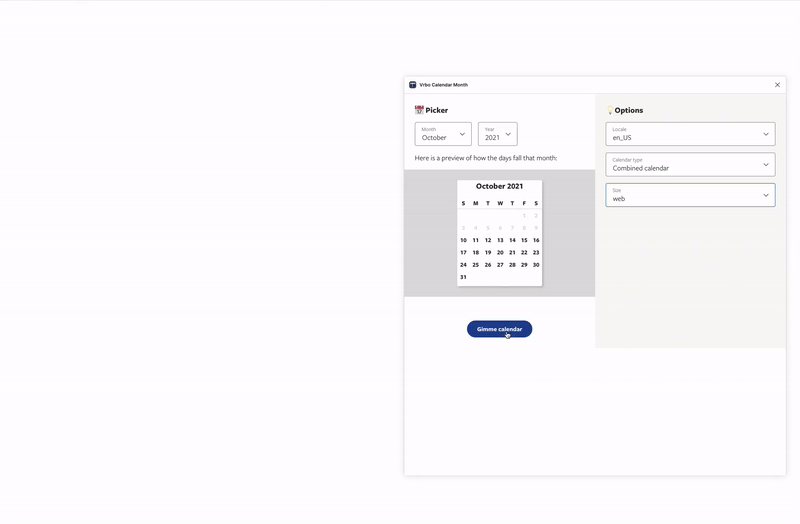 Adaptive calendar

Web, iOS, & Android

Contributions:
UX/UI, strategy, interaction, animation, system design, & prototyping


Collaborators:
Product designers, content strategist, UX research, product manager

Problem:
Expedia Group Partner Central supports a range of property owners, from hobbyist vacation rental owners to mom and pop b&bs to massive hotels. Even though their needs are vastly different, they all use an experience that caters to large operations.

Outcome:
We developed a calendar interface that intelligently adapts to each partner's needs based on their mental models, guest management style, and room variety.