Raji Purcell

Product Designer
Whole Foods Market + Amazon
Prime Member Deals App
Contributions:
UX, UI, Visual, Interaction, & Usability Testing
In order to encourage store visits from Amazon Prime members, we launched an iOS and Android app that gives them access to member-only deals. As part of a two-person team, I contributed to everything from high fidelity prototypes to a brand new interface. After launch, usage of the app contributed to a spike in Prime member purchases at Whole Foods Market.
︎
More information avaialble upon request.
Whole Foods Market
Holiday Table
Contributions:
UX, UI, Interaction, & Usability Testing
The objective was to create an engaging digital counterpart to the Whole Foods Market printed holiday catalog. To accomplish this, we created the concept of "shopping at the dinner table". I then designed user flows that encouraged customers to explore our offerings from a page resembling a holiday table spread.
︎ Holiday Table Case Study
Whole Foods Market
Online Store
Contributions:
UX, UI, & Interaction
To prepare for the holiday traffic spike on our online store, we needed to make UX improvements. The focus of those improvements was placed on mobile (where most of our traffic would come from) and their purpose was to make it easier for customers to shop.
︎ Online Store Case Study
Confidential
Whole Foods Market Redesign
Contributions:
UX, UI, Visual, & Interaction Design
A redesign of the Whole Foods Market website from the ground up.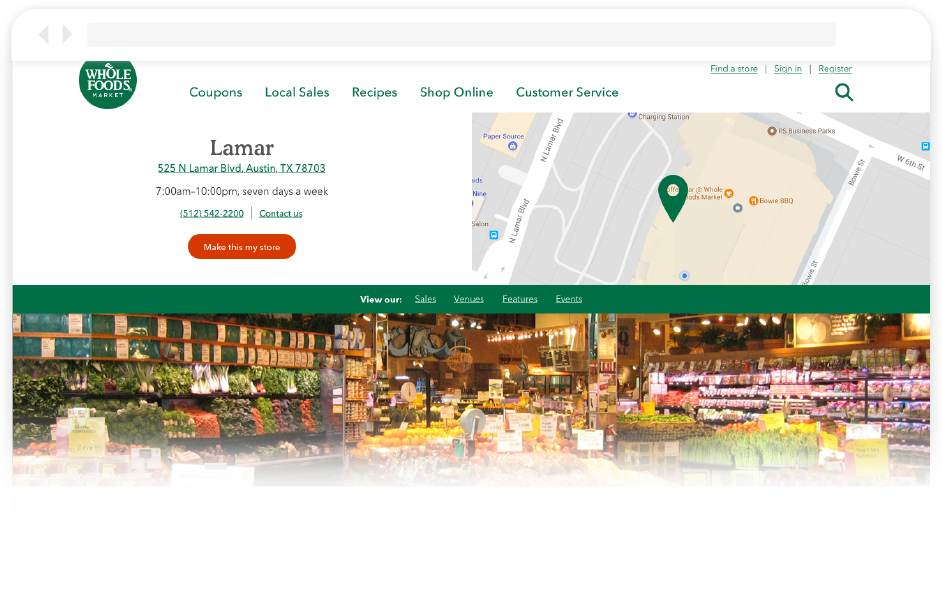 Warner Bros
Creed: The Rocky Legacy Timeline
Contributions: UX, UI, Visual, & Interaction

Project C appointed me as lead designer of an interactive timeline for Warner Bros. Its purpose was to guide Rocky fans through key events in the series, ultimately setting up the story for the newest movie, Creed. The site included a unique method for navigating through the movies' time periods and was built on Tumblr so users could easily share images, videos, and quotes from the site.